Easy To Use Fire Extinguisher Blanket For Kitchen, Bedroom, Office and Home Use – Extinguishes Fire in Seconds
KITCHEN FIRES ARE THE NUMBER ONE CAUSE OF HOME FIRES & HOME INJURIES IN THE U.S.
Last year in the United States, fire departments responded to an estimated 172,100 home structure fires started by cooking activities; an average of 471 kitchen fires per day.
We understand that accidents happen, and when your home, condominium, or business is damaged or destroyed by fire, it can be the start of a lengthy recovery process.
While we understand that cleaning up after fire damage can take time, an insurance claim delay or rejection should not be the reason you are waiting to get your kitchen and home back in working order.
Some are trapped inside a burning house with no option at hand to get away and/or protect themselves from fire as they attempt to escape. 
Highly Recommended by NFPA and Emergency Services!!
WORRY NO MORE! Save your family and neighborhood from huge trouble, destruction, and losses with our easy-to-use and effective way to instantly extinguish fire in seconds before it gets out of control!
You can use it too as a protective blanket as you attempt to escape a burning house or room – a must-have in the bedroom or any area which can be easily accessible by any member of the family during a fire breakout.
✅HIGH QUALITY – Made of 100% high-quality flame retardant materials called woven fiberglass fabric. They meet EN-1869:1997 standard for cooking fire suppression which can isolate high temperatures for up to 1022 °F or 550 °C.
✅ A SURVIVAL EMERGENCY BLANKET: They can be used to extinguish small fire without mess unlike common fire extinguishers. It can stop liquid or grease fire immediately by cutting off oxygen supply to the fire. Works in different types of fire as well. They can also be used as a thermal or heat shield . A must have in your house fire safety kit and car survival kit for protection.
✅ NO EXPIRATION – This doesn't expire and is very handy unlike fire extinguishers. It can easily be stored on kitchen counters in case of emergency. It is highly recommended to keep one nearby a kitchen, bedroom, office, or any accessible part of your home.
✅EASY TO USE – Simply pull down the fire blanket, spread the blanket wide, and slowly throw the blanket to cover the fire. Make sure to let it sit there for a few seconds. Let the blanket suffocate the fire. Turn off the stove or any heat source.
✅REUSABLE – If the fire blanket is not severely damaged after use, simply fold it again and put it back inside the bag for future use. However, we recommend to always have a backup blanket in case you need reinforcement from the used ones.
✅NON-TOXIC AND SAFE TO USE – This fire blanket is safe to use by both adults and children. But please take note that there may be some fiberglass debris in the blanket as this helps in extinguishing the fire.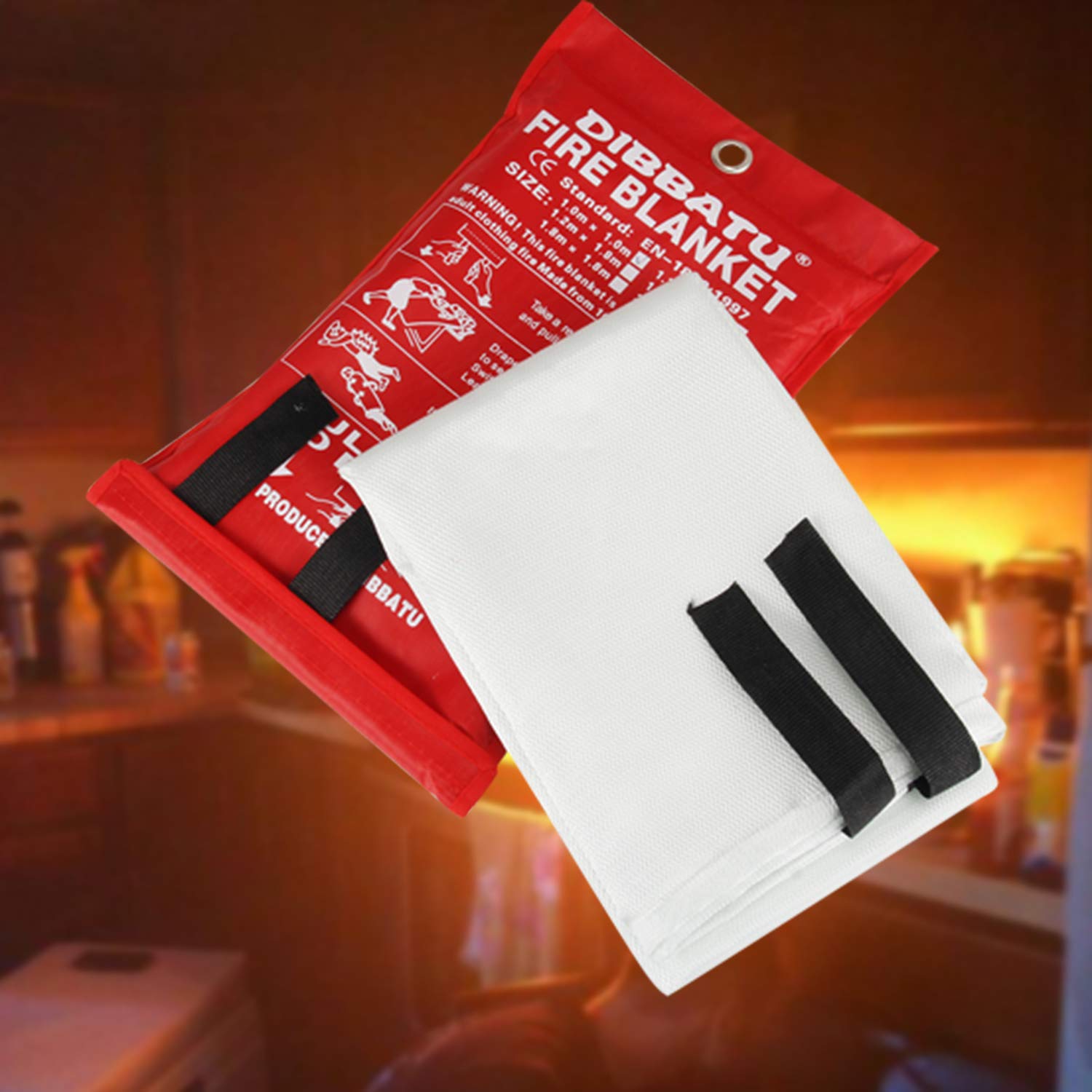 ✅MULTIPLE USAGE – It can be used as your main fire extinguisher in the kitchen, bedroom, camping, electrical short circuit, car emergency, and many others instead of the conventional fire extinguishers that can be intimidating to use. At the same time, it can also be used as a blanket to protect your body during a fire emergency right at your place.
It is most ideal to be hanged anywhere in the house area.
DIMENSION AND INCLUSION – 1X 40*40 inch blanket; 1X piece per bag
Do not think twice if the safety of your family is at stake! As they say, prevention is better than cure. In this case, are you going to wait for a fire to break out and create damage before you take action?
With this fire blanket, not only will you prevent fire to get out of control, but also the damages it will create financially, physically, mentally, and emotionally. Get yours now and start to protect your loved ones from any unforeseen events in the future. Remember, accidents and emergencies wait for no one. 
🔥For every one's safety, we recommended that you always keep alert with the fire and make good prevention. 🔥Fire blanket is your best choice.
Click On "ADD TO CART" To Get Yours Now!