ACCURATE MITRE GAUGES FOR SAWS GONIOMETER ELECTRONIC ANGLE RULER
Is it always wrong to transfer the result to a mitre saw cut after measuring the mitre angle?
Accurate Mitre Gauges for Mitre Saws allow precise and easy angle measurement and subsequent transfer to the mitre saw.
MAIN FEATURES:
▶ Wide Measuring Range
2 plastic legs for measuring and transferring wall angles from 30 to 180° and subsequently aligning the angles on the mitre saw.
▶ Makes Sawing Accurate
2 magnets attach directly to the saw blade to replicate the angle that needs to be cut, making mitre saw cuts more precise.
▶ Practical & Convenient
Includes telescopic corner callipers for outside corners and an integrated foldable stop for easy marking on the workpiece, both inside and outside corners can be measured and angles can be easily marked on the workpiece.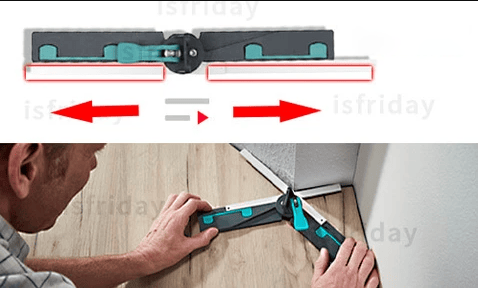 ▶ Special Eccentric Lever Design
The special lever design makes it easy to operate, even in narrow working areas, and the data can be measured and transferred perfectly to the mitre saw.
SPECIFICATIONS:
Product Weight: 280G
Product Size
(L x W x H) :220 × 150 × 85MM
Package Contents: Accurate Mitre Gauges for Mitre Saws × 1